Shop Guide
Exclusively specializing in Magic: the Gathering!
Boasting Japan's largest playspace at 330 seats!
It's none other than the Hareruya Tournament Center Tokyo!
We host tournaments every day in just about every format, rain or shine, weekday, weekend, or holiday.
We even have a weekly beginners' learning session every Wednesday and Friday!
From casual rookies to decorated Hall of Famers, everyone can come here and enjoy Magic all day long.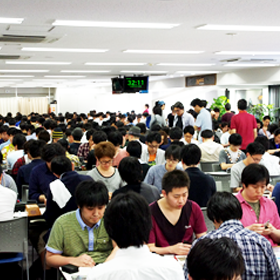 Selection
Singles, booster packs, supplies, books, and on and on and on, you can order everything from our mail-order stock via our in-shop ordering PCs.
In addition, we have in-store, limited edition deals only available from our showcase!
From superb discounts on played singles, storage boxes, and playmats, to various supplies, and more, there is a ton you can only find right here, so please be sure to take a look!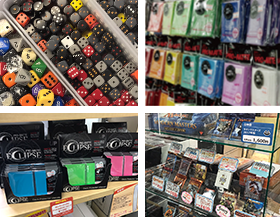 Buying
We also buy cards in-store!
Not only singles and packs, but anything related to Magic is ok!
Perhaps you have some old sleeper cards that now command high prices!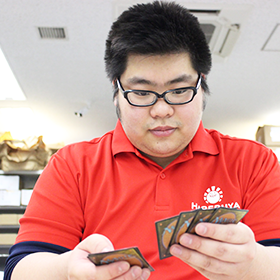 Other
We have lots of vending machines for your drinks, lots of snacks, and light meals you can buy!
Even if you are in a tournament and you get hungry, you are able to charge your energy with ease!

Starting with a vending machine specially made to sell booster packs which you will never see elsewhere, varieties of items are here for you to purchase, and also a shelf full of fun comics and magazines are able to read if you are waiting for your next tournament rounds!!

Access
2F,OC Bldg. 3-12-2 Takadanobaba Shinjuku-ku Tokyo JAPAN 169-0075
TEL:03-5332-7544 03-5332-7517(For questions about online shop)
Open: 9:00am-11:00pm
Online shop dial reception time:9:00~17:30